Berklee Closes Out 75th Anniversary Celebration with Diamond Jubilee
April 13, 2021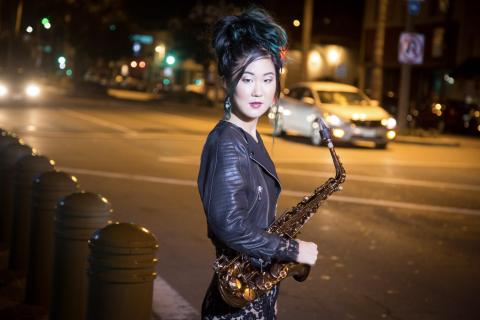 Berklee will close out its 75th anniversary celebration with a virtual Signature Series concert on Thursday, April 22. Diamond Jubilee: A Celebration of Berklee's 75th Anniversary will feature memorable performances by students, faculty, and alumni representing the institution from locations across the globe. The concert will be available on Berklee's YouTube channel at 7:30 p.m. ET.
Founded in 1945 as Schillinger House and renamed Berklee in 1954, the school began establishing itself as a global hub for music education in the 1950s, when musicians Toshiko Akiyoshi '59 and Arif Mardin '61 came to the school from Japan and Turkey, respectively. Since then, Berklee's footprint has broadened with the launch of Berklee Online; the addition of Boston Conservatory to the larger Berklee institution; the opening of campuses in New York City and Valencia, Spain; and the establishment of a center in Abu Dhabi. Students from every continent have studied at Berklee, creating a global artistic community. 
"Diamond Jubilee is a celebration of both the diversity within our institution and the unity of purpose that makes us one," said Berklee President Roger H. Brown. "In my view, the dominant value that holds all this together is creativity—empowering our students to bring new music, dance, and theater to life. I think you will see this cascade of innovation and originality refracted by our multifaceted, global community."
Grace Kelly B.M. '12, performing from Berklee NYC, and Carla Hassett B.P.S. '17, representing Berklee Online, will showcase original music at the concert. Gael Hedding, director of the Berklee Abu Dhabi Center, and Mayssa Karaa, the center's artistic director, will perform "Ya Osas" by Julia Boutros. From Berklee College of Music, Grammy-nominated Professor Tia Fuller and George W. Russell Jr., chair of the Harmony Department, will play John Coltrane's "Mr. P.C.," and Boston Conservatory at Berklee will feature a dance piece by student Adrian Ruiz called The Rhythm Speaks. As part of the Berklee Global Career Summit, students and faculty from the Valencia campus collaborated on an original song, "Um Dia Mais," produced by Magdalini Giannikou, a program director at Berklee Valencia. The concert will also feature a collaborative piece from the Broadway musical and upcoming film In the Heights, recorded at each of Berklee's respective locations across the globe.
Watch the concert on Berklee's YouTube channel on Thursday, April 22, at 7:30 p.m. ET: