TAKE A TOUR
Tour the Berklee NYC Campus
Join Stephen Webber, executive director of Berklee NYC, for a virtual tour of the renovated Power Station facilities.
Black Box Theater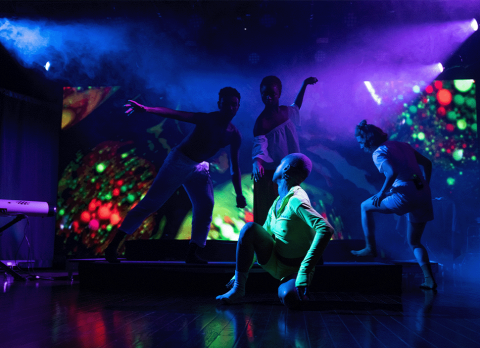 Berklee NYC's Black Box Theater is a future facing, multi-use space that can be arranged for countless configurations including concerts, workshops, events, music video shoots, and classes. 
This cutting-edge space is at the heart of student collaborations, performances, productions, and design projects. 
It features:
Large 20' LED wall

Full lighting grid featuring an array of theatrical, cinematic, and FX lighting

Fully sprung dance floor

Engineer/lighting booth

Modular stage platforms

PA capable of multi-speaker spatial audio configurations

Projection-mapping capabilities

Green room, dressing rooms, and pantry
---
The Origin Room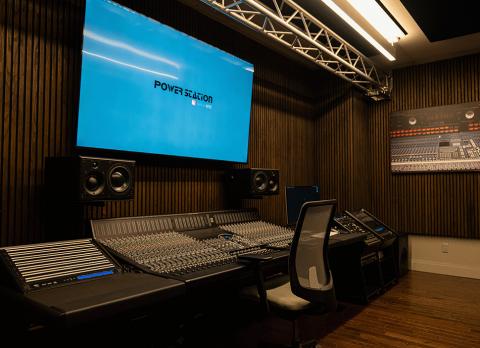 Berklee NYC is outfitted with a brand-new critical listening classroom and mixing studio, centering around a 32 channel Solid State Logic Origin console. Here, students will attend classes and schedule individual time for labs, recording, editing, and mixing using a host of analog outboard gear.
Students have the opportunity to learn about music video production, broadcast, and livestreaming in a world-class facility designed around the evolving landscape of content creation.
It features:
Solid State Logic Origin 32-channel Analog Studio Console

ATC loudspeakers SCM25A PRO MK2

Dante I/O for Black Box Theater capture and broadcast mixing

Professional outboard gear by Grace, Universal Audio, and DBX 
---
Writing Rooms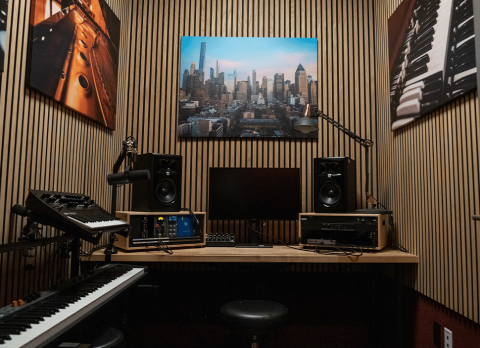 There are three individual production spaces at Berklee NYC that students can schedule time to record, write, and produce any number of projects. With built-in keyboards, synthesizers, monitors, a microphone, and an audio interface connection directly to a laptop, students will have everything they need to work on their material.
Each room is equipped with:
JBL monitors

Shure SM7 microphone

API 500 series outboard gear

MOTU audio interface

Korg Minilogue analog synthesizer

Moog Minitaur analog synthesizer

MIDI keyboard
---
Video Facilities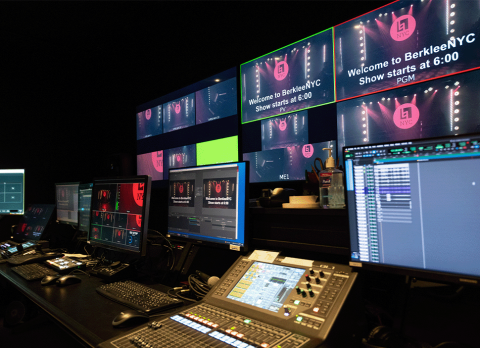 Video content is at the center of today's music and performing arts landscape with music videos, live studio performances, and behind-the-scenes footage providing artists with impactful content for their digital branding.
Students have the opportunity to learn about music video production, broadcast, and livestreaming in a world-class facility designed around the evolving landscape of content creation.
Video capabilities:
Video control room with professional switcher, remote PTZ camera control, multicam and multichannel audio monitoring and capture for post production, live streaming and broadcast

4K PTZ (pan-tilt-zoom) cameras are situated in studio spaces as well as the Black Box Theater, where the LED wall and professional lighting grid provides countless creative options 

Professional 4K Panasonic cameras and mirrorless Sony cameras

Lighting equipment, tripods, jibs, and other tools used to enhance video production value

Industry standard video editing and post production software
---
DJ Lab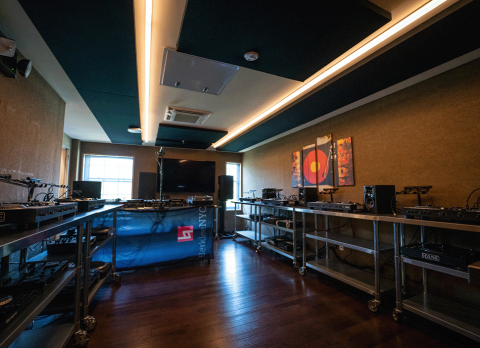 The DJ Lab houses a wide array of both digital and analog DJ systems, from vinyl turntables and mixers to modern CDJs and digital DJ controllers.
The lab features hardware and software from Rane, Numark, Akai, Pioneer, Roland, Ableton, and Serato.
---
VR Lab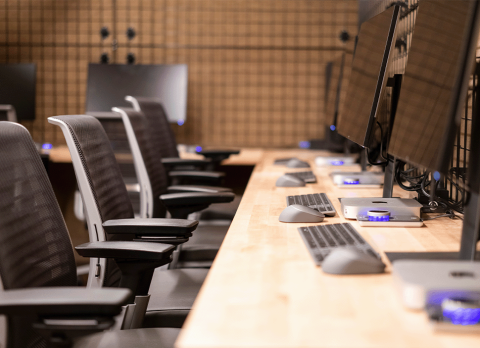 Technology lab and classroom featuring software designed around video content creation; featuring the Adobe Suite (Premiere, After Effects, Photoshop), Apple Content Creation Apps (Logic, Final Cut Pro, Motion) Unreal, Touch Designer, Resolume, Pro Tools and Ableton Live.
---
Lighthouse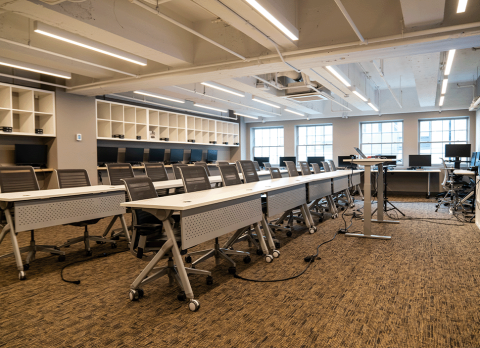 The Lighthouse is a large classroom and technology lab that can be used for general meeting, working, or rehearsal space.
---
The Arch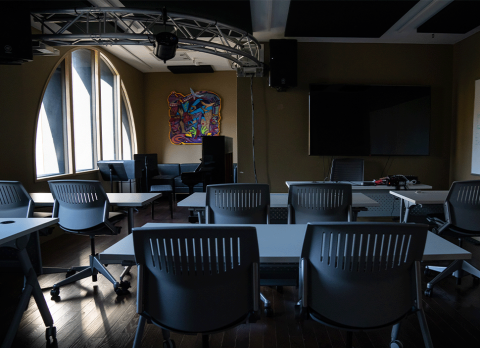 Showcasing the arched window of the building's facade, the Arch is a multipurpose space for classes, meetings, and rehearsals.
---
Equipment Room (ER)
Students can check out instruments, including guitar, bass, and keyboards, and well as multiple models of the latest MIDI controllers from the Equipment Room. Also available are multiple models of digital audio interfaces from Apogee, Universal Audio, and Focusrite, and microphones from Shure and AKG.  Sony mirrorless cameras for 4K video and still photography, and 360 cameras and headsets are available for student projects. 
---
Historic Building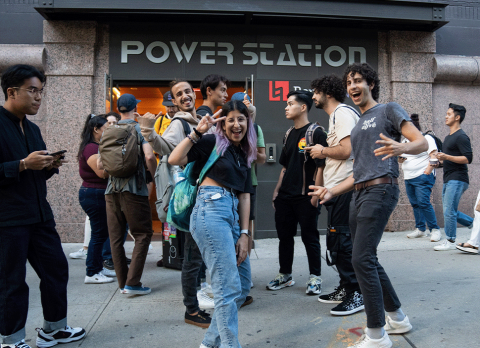 The Power Station at Berklee NYC is an iconic studio where David Bowie, Madonna, Diana Ross, Bruce Springsteen, the Jonas Brothers, H.E.R., Bruno Mars, Herbie Hancock, and countless others have made landmark recordings. The soundtrack for Barbie (the motion picture), most Broadway cast albums (including Hamilton), and music for many television projects (including Succession) are recorded in the studios. 
Though active professional recording sessions happen throughout the building, there are select studios that are used primarily for student projects and activities. For the other commercial spaces, students can apply for studio time to record portions of their projects to benefit from some of the larger iconic spaces.
---
Studio G and E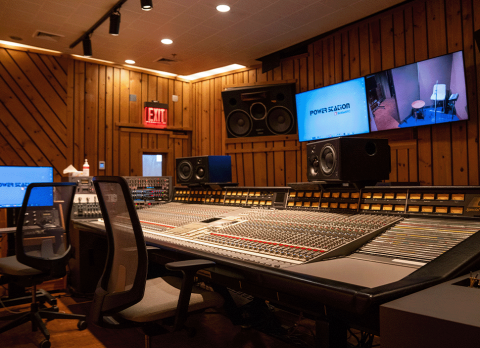 Both of these studios are devoted to educational applications and provide excellent recording and mixing capabilities for student work.
Studio G is the primary studio where the engineering classes are taught at Berklee NYC. It features a live room which can track a band, vocalists, or various overdubs. Studio G's control room is a top-tier mixing environment with a G+ SSL console at its heart.
Studio E is an excellent mix room and collaborative space with an accessible vocal booth for overdubs. Studio E is also outfitted with a Dolby ATMOS system perfect for the ever-growing demand of spatial audio delivery.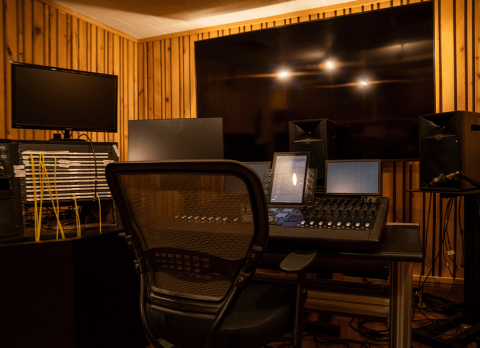 ---
Studio A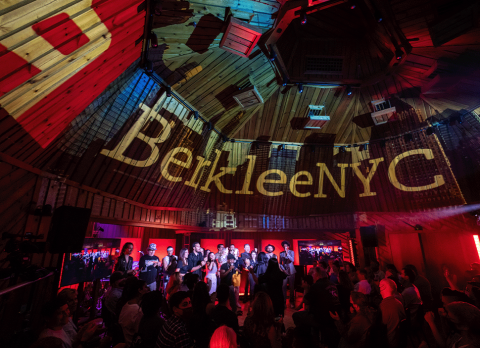 Studio A is one of the largest recording studios in New York. The unique acoustics and architecture are instantly recognizable, and often copied.  While primarily used for professional recording projects, Studio A often hosts classes, workshops, special student events, and the annual commencement concert. Students can apply for recording time in Studio A for their culminating experience projects.
---
Studio C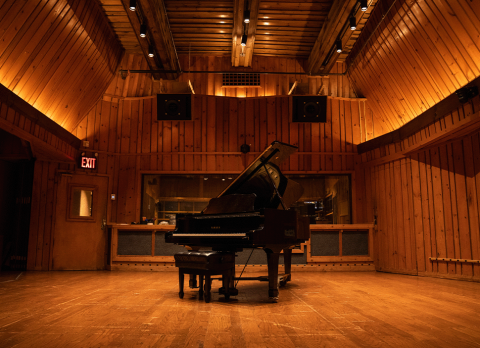 Studio C is almost as large as Studio A, and hosts select classes each year, as well as workshops, master classes, and student sessions. Also primarily used for professional recording projects, students can also apply for recording time in Studio C for their culminating experience projects.