Berklee NYC is a unique master's program in the heart of New York City. Berklee NYC does not have residence halls and cannot offer on-campus housing to our students.
We are glad that you've decided to join us in New York City. As you may know, the cost of living here is higher than most cities in the United States. It is important for all students to assess finances accurately and develop an adequate budget that accounts for rent, utilities (electricity, hot water, heat, phone, internet, cable TV), transportation to and from school, groceries, furniture, and other items.
A helpful note: In New York City, it is common to begin looking for and securing an apartment three to six weeks before your desired move-in date. It is uncommon to get on a lease prior to a month or two before your desired move-in date.
Accepted Students
Once a student is accepted there are a handful of resources we curate to help ease the stress around moving to New York City. Accepted students will be able to participate in:
Accepted Students' Facebook Group: Once admitted to Berklee NYC, members of our incoming class will be provided a private link to join the incoming class Facebook page. This is a great chance to connect with other students before the start of the year and ask questions to your peers and current Berklee NYC students. 
New York 101: a Zoom webinar held throughout the summer that will walk students through the process of looking for and securing an apartment in New York City, tips and tricks for commuting, smart budget reminders, and more. 
Berklee NYC Living Situation Survey: an optional survey for accepted and deposited students where information is collected about what you are looking for in your New York apartment (price range, neighborhood, lifestyle preferences, etc.). All who complete the survey will be provided with the responses to be able to find other members of the incoming class who could be potential roommates during their year of study. Please note Berklee NYC does not guarantee a roommate within the program and will not be assigning roommates.  
Berklee NYC makes no endorsements or guarantees with regard to the availability of housing in New York City.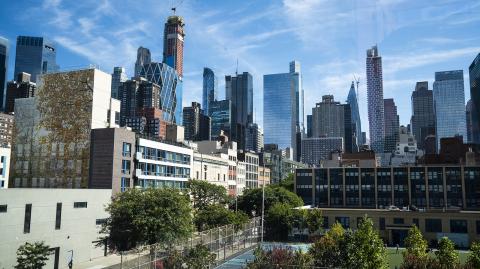 Student Housing
---
Search Agents
---
Additional Resources
Compare New York electric companies
---
New York City Rent Guidelines Board
51 Chambers Street, Suite 202
New York, NY 10007
212-385-2934

Housing Resources
ask@housingnyc.com
Division of Housing and Community Renewal
Rent Administration Office
92–31 Union Hall Street
Jamaica, NY 11433
718-739-6400
866-275-3427 (toll-free)
nyshcr.org/rent
---
Berklee NYC has no relationship to any specific apartment brokers or websites. All information listed on this website is provided as a resource for students to explore alternative housing options. The accommodations on the listed websites have neither been inspected nor approved by Berklee NYC. All rental arrangements are the sole responsibility of the renters and the landlord. Landlords are expected to abide by the New York City housing laws.