What Is Live Music Production and Design?
February 3, 2021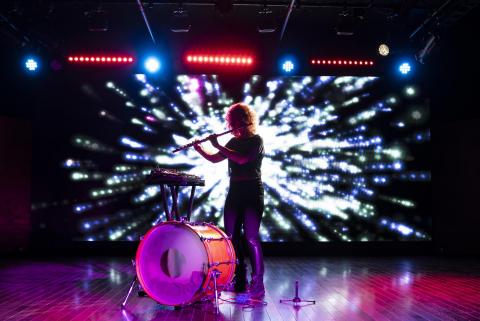 Curated experiences are everywhere. Whether found on Broadway or YouTube, in a theme park, at a fashion show, or in a retail store, an experience can be anything designed to attract and engage an audience. In recent years, technology has transformed our idea of what an experience can be, resulting in a new class of professionals being hired to provide artistic direction for a broad range of events. Thanks to the new live music production and design graduate program, in New York City, Berklee students will now be at the forefront of this field.
Set to welcome its first cohort in September 2021, the 30-credit, yearlong curriculum—one of three specializations within Berklee NYC's Master of Arts in creative media and technology program—will equip students with the technical chops and creative vision to reimagine the future of live events. And with Berklee NYC's location in Manhattan's Hell's Kitchen neighborhood—blocks from Broadway theaters, major music venues, and media companies—students will have plenty of opportunities to do just that. Applications are open now.
A New Kind of Theater
Berklee has long offered individual courses and immersive training in producing for concerts and other events that give students the knowledge needed for careers in live music production and design. With the campus in NYC, Berklee is able to expand those courses into an official program and bring all the necessary skills together.
Loudon Stearns, the program's director, says the push to formalize live music production and design as a focused area of study dates back to the early 2010s. Interest in the program started to grow as track playback—prerecorded instrumental or vocal parts used by artists and producers to enhance their live shows—began to take on a more prominent role in Berklee productions. "Track playback is the lynchpin," says Stearns. "When everyone's on a set timeline, all the different systems can be developed around that and timed perfectly."
Momentum continued to build towards the creation of the program, but a critical piece was still missing: a dedicated facility. Enter the Black Box Theater, a focal point of Berklee NYC's just-completed $15 million renovation; the theater boasts a full lighting grid, a towering LED wall, and an adjacent control room.
"The Black Box Theater is our sandbox," Stearns says. "It's a place to play and try out ideas, [and] unlike a traditional theater, there's nothing set about it. We can model almost any experience in that space." Experiences, he says, break down into three main categories: the music concert environment; theater, which has similar roles but a different set of tools and creative processes; and interactive experiences, which include video games and virtual reality.
But, he says, all of these experiences are starting to combine. "You're seeing theater wanting to embrace track playback.... As soon as you embrace that in theater, then you have all these really engaging synchronized events happening, [and] you can integrate lighting and sound on a moment's notice. Video game engines are showing up in all kinds of experiences now; 3D modeling is showing up in concerts."
"The fact is, since we're heading toward this convergence, we don't know exactly what the jobs will be," he says. "The jobs often don't even have real names yet, but everyone knows that they're required."
"I want my students to walk into an event and understand how every technical system is connected via people and technology [so] they can empathize with every stakeholder, on stage and backstage."

—Loudon Stearns
The best way to prepare students for these jobs, Stearns says, is through a balanced curriculum, one that places equal emphasis on technical and entrepreneurial skills. Students gain experience in areas ranging from live electronic performance, sound design, and playback engineering to lighting design, projection mapping, and video production. They also learn to foster a creative and adaptable mindset and are challenged to explore diverse viewpoints and integrate them into their work.
"I want my students to walk into an event and understand how every technical system is connected via people and technology [so] they can empathize with every stakeholder, on stage and backstage." Stearns says.
For Stearns, who studied music and sound design at Berklee, earned a master's degree in media art from Emerson College, and has been an avid computer programmer all his life, the curriculum is a perfect representation of his skills and interests. What excites him most about the program, though, are the students and what they'll create.
"Berklee has this amazing reputation for being a music- and sound-focused school, and I see this as the first opportunity to really engage a broader collection of artists, a diverse collection of people that Berklee has never really had before," he says. "I just can't wait to get people in a room together and see what they come up with."
---
Live Music Production and Design at Its Best
A firm grasp on the skills behind live music production and design can make a good a performance into an unforgettable one. Stearns shares the following three examples that show the creative potential of live music production and design:
Flying Lotus
"Flying Lotus's Flamagra tour featured two VJs—Timeboy and strangeloop—trading off control of the visuals, presented on an innovative 3D LED screen. The audience is completely transfixed. It's worth mentioning that since this is a live experience, the truly innovative part—the 3D element—can't be captured on a cellphone video."
---
Doja Cat
"Doja Cat performed at the Video Music Awards on an XR stage. XR stages use LED walls and floor and a location-aware camera to immerse the performer in realistic and imaginary 3D worlds controlled by a game engine. It also features interactive clothing!"
---
David Byrne
"David Byrne's American Utopia is a hybrid Broadway show and musical concert. Wireless data transmission allows the musicians and dancers to move freely around a sparse stage tracked automatically by moving lights, which become characters themselves and are critical to expressing the meaning of the show."