Mayor de Blasio, Berklee, the Mayor's Office of Media and Entertainment and NYC Economic Development Corporation, and Berklee Trustee Pete Muller Announce Preservation of Historic Power Station (Avatar) Studios
September 5, 2017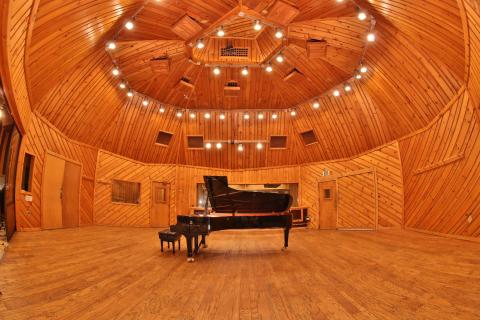 • Berklee will renovate the facility and establish BerkleeNYC
• City invests $6M in public programming
• The legendary studio will operate as the Power Station at BerkleeNYC
Mayor Bill de Blasio and Berklee, one of the most prestigious performing arts institutions in the world, announced Berklee is coming to New York City and will make a home in the historic Power Station studios (most recently called Avatar studios).
The world-renowned studio—where artists like Bruce Springsteen, Paul Simon, Herbie Hancock, Tony Bennett, Lady Gaga, David Bowie, Madonna, Pat Metheny, Bob Dylan, the cast of Hamilton, and many others recorded iconic albums—was in danger of shutting down. Now, with the support of the Mayor's Office of Media and Entertainment (MOME) and the Economic Development Corporation (EDC), as well as the vision of Berklee Trustee Pete Muller, Berklee will renovate the 53rd Street facility and transform it into BerkleeNYC, a state-of-the-art recording and video production facility for the city's music, theater, television, and film industries.
BerkleeNYC, with funds from MOME and the EDC, will host both free and tuition-based educational programs, performances, and resources for local musicians and will also feature a virtual reality/augmented reality studio.
Berklee plans to continue operating the studio commercially as the re-christened Power Station at BerkleeNYC, restoring the name established by original owner, visionary studio designer Tony Bongiovi. Preserving and modernizing the facility, the last recording studio in New York that is able to accommodate a full orchestra or live Broadway cast album recording, ensures that top artists can continue to record in New York, and allows Berklee to expand its vision of nurturing the world's most promising musicians while engaging in meaningful community outreach.
"Renovating this amazing, historic music venue is a powerful nod to New York City as a continuing center for innovative art, culture, and creativity. I commend Berklee and Trustee Pete Muller for their investments, their vision, and for the public programming space that will benefit many budding and future New York recording artists," said Mayor de Blasio.
This year, Mayor de Blasio announced his New York Works jobs plan, which includes a strong focus on investing in the arts and cultural sectors—enormous employers and drivers of economic activity. MOME recently expanded its portfolio to include music, marking the first time a City agency has ever had the mandate to support the industry. A recent study commissioned by MOME revealed that, in the past 15 years and due to seismic shifts in the music industry, New York City has lost a dramatic number of recording studios and related jobs. Reinvigorating this sector is a priority of Media and Entertainment Commissioner Julie Menin.
Moreover, it has been a goal of Berklee, which offers undergraduate and graduate degree programs at its Boston, Massachusetts, and Valencia, Spain, campuses, to establish a presence in New York City. To make this visionary, public-private project a reality, MOME and EDC have joined forces with Berklee and Muller.
"The Power Station is an iconic, creative hub of music," said Berklee President Roger H. Brown. "So many influential recordings have been made there and it puts us at the nexus of the vital music, theater, and dance communities of New York City. We intend both to re-imagine the recording studio of the future and add a powerful educational program to support our many Berklee alumni who intend to live, work, and create in New York."
Funding from MOME and EDC will establish programs at BerkleeNYC including continuing education, career strategy, grants, and skills acquisition for New York musicians, composers, producers, and engineers. The public will have opportunities to attend artist lectures, workshops, performances, and master classes, while New York City's public school students can take courses in performance, songwriting, and production. Also to be offered are teacher training sessions for Berklee City Music, Amp Up NYC, and Little Kids Rock; programs exploring the intersection of music, dance, theater, and technology; talent incubation; and internships for Berklee College of Music and Boston Conservatory at Berklee students. BerkleeNYC will also feature exhibits, which will be open to the public, memorializing the rich musical history of the facility.
The project was spearheaded by Muller, an accomplished singer-songwriter who started out busking in the New York City Subways, recently played at the Montreux Jazz Festival, and is a pioneer of quantitative investing. Berklee enlisted Stephen Webber, executive director of BerkleeNYC and Berklee's dean of Strategic Initiatives, and former director of the Master of Music Production, Technology and Innovation program at Berklee's campus in Valencia, Spain, to lead the center and develop the programs.
"The Power Station is one of the world's most iconic recording studios. Preserving it honors New York City's music scene and all the great artists who have recorded there," said Muller. "To know that we are saving a studio that has hosted so many legends is awe-inspiring. I am honored to be part of such an important project."  
"We could not be more excited that the cultural treasure previously known as Avatar studios will now be in such capable hands," said Media and Entertainment Commissioner Menin. "Saving and rehabilitating this amazing recording studio and giving Berklee a New York home is a win not only for our city's incomparable music scene but for the thousands of music-loving New Yorkers who will benefit from Berklee's robust public programs. We are extremely proud to have played a role in this visionary project and look forward to a beautiful renovation that helps continue New York's status as the music capital of the world."
"So many influential artists have recorded at the legendary Avatar studios, and we're proud to support the restoration of this facility to provide a home for the next generation of talented musicians," said New York City Economic Development Corporation President and CEO James Patchett. "We are thrilled to partner with MOME, Berklee, and Pete Muller to provide public programming and help maintain New York's status as the music capital of the world."
In addition to the studio renovation, the building's lower level will be converted into a flexible-use practice/performance venue, including an affordable rehearsal space featuring a professional-size stage and state-of-the-art sound, lighting, and video technology. It will also include a video control room to capture and post-produce video from all over the building, a virtual reality/augmented reality studio, and flexible spaces for ensemble practice rooms and classrooms.
"This project is important not only to Berklee's mission, but also to preserve the legacy of New York's prominence as a seminal center for recorded music," said Webber. "It will also create industry jobs, help attract national musical events, and encourage economic vibrancy in the creative industries."
"I am thrilled that the Power Station name is returning to the original studios in New York City," said former owner Bongiovi.
Berklee is already active in New York. Since 2014, the college's faculty has trained more than 300 New York public school teachers to deploy Berklee's free PULSE curriculum to more than 60,000 students through the Amp Up NYC program. Berklee College of Music and Boston Conservatory at Berklee alumni populate the New York music scene at every level—from Broadway shows, the Blue Note stage, Jazz at Lincoln Center, and television house bands, to the city's recording studios, record labels, and management and publishing companies.
Power Station studios was founded and designed by Tony Bongiovi, with business partners, in 1977. Located in an old Con Edison power plant, the studio quickly became a huge success due to Bongiovi's now legendary acoustical design, providing rooms designed specifically for multitrack recording boasting a "live" sound. In 1991, Power Station became the first recipient of the Les Paul Award from Mix Magazine for audio excellence and creativity. Chieko and Kirk Imamura have owned and operated the facility as Avatar Studios since 1996. The Imamuras's leadership included building additional studios, integrating modern digital audio capabilities, and hosting clients including Paul McCartney, Sheryl Crow, Bruno Mars, and Berklee alumni John Mayer '98, Diana Krall '83, and Esperanza Spalding B.M. '05. Dozens of Grammys and gold and platinum records have been awarded to projects recorded at Avatar during the last 20 years.
About MOME
The Mayor's Office of Media and Entertainment encompasses the key economic and creative sectors of film, TV, theater, music, advertising, publishing, digital content and real estate as it relates to these industries. In total, these sectors account for over 305,000 jobs, and an economic output of $104 billion. Since adding music to its portfolio of industries, MOME has released the first-ever Economic Impact Study of NYC's Music Industry, led the negotiations to bring the Grammy Awards back to New York in 2018, and presented the first annual New York Music Month in June 2017. The agency also oversees NYC Media, the largest municipal broadcasting entity in the country including five TV Stations and a radio station with a reach of 18 million viewers in a 50-mile radius.

About the EDC
New York City Economic Development Corporation is the City's primary vehicle for promoting economic growth in each of the five boroughs. NYCEDC's mission is to stimulate growth through expansion and redevelopment programs that encourage investment, generate prosperity, and strengthen the City's competitive position. NYCEDC serves as an advocate to the business community by building relationships with companies that allow them to take advantage of New York City's many opportunities. Find EDC on Facebook, Twitter, and Instagram, or visit EDC's blog to learn more about NYCEDC projects and initiatives.

About Berklee
Berklee is the preeminent institute of contemporary music and the performing arts, offering undergraduate and graduate degree programs at its campuses in Boston, Massachusetts and Valencia, Spain, and through its award-winning distance learning program, Berklee Online. Dedicated to nurturing the creative and career potential of the world's most inspired artists, Berklee's commitment to arts education is reflected in the work of its students, faculty, and alumni—hundreds of whom have been recognized with Grammy, Tony, Oscar, and Emmy awards.
At Berklee College of Music and Boston Conservatory at Berklee, students explore interdisciplinary approaches to music, dance, theater, film, business, healthcare, education, technology, and more.Its pioneering youth programs reach underserved classrooms throughout the U.S. and beyond. With students and alumni from more than 100 nations and educational partners across the world, Berklee is forging new connections among art forms, musical traditions, and technologies to build a dynamic, diverse, and collaborative global arts community. Learn more at berklee.edu.
About Pete Muller
Pete Muller is the founder and CEO of PDT Partners, a leading quantitative investment firm.  Prior to joining Morgan Stanley in 1992 and founding the Process Driven Trading group (PDT), Muller was at BARRA for seven years.  
Math, music, and investing have always been a large part of Muller's life. In addition to serving on the editorial board for the Journal of Investment Management, he is on the boards of Math for America and Berklee. His published research includes work on financial optimization, mortgage prepayments, and equity valuation models. As a pianist and singer-songwriter, Muller has released three albums of original music and performs regularly with his trio. In his spare time, he has created more than a dozen crossword puzzles for the New York Times, runs a monthly music-based crossword contest at pmxwords.com, and is a devoted and active philanthropist.
Muller received his B.A. in mathematics with honors from Princeton University. He lives in Santa Barbara with his wife and two children and spends frequent time in New York. Find out more about Pete Muller at petemuller.com.