Berklee Presents American Master Award to Rick DePofi at Power Station at BerkleeNYC
September 22, 2017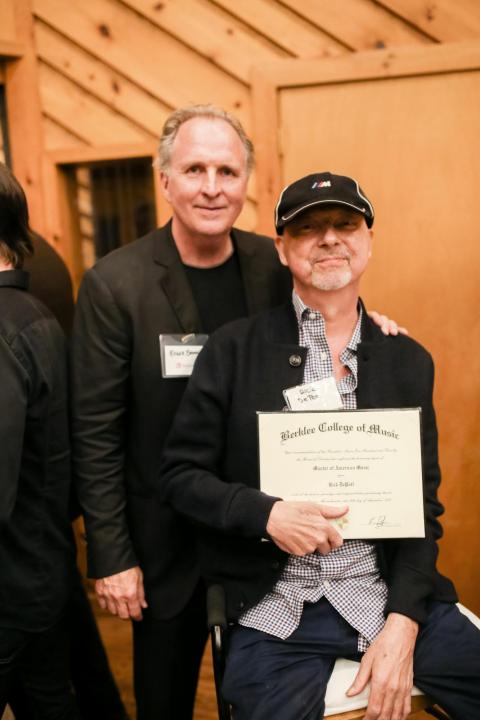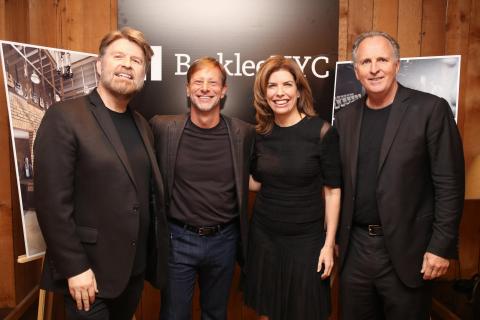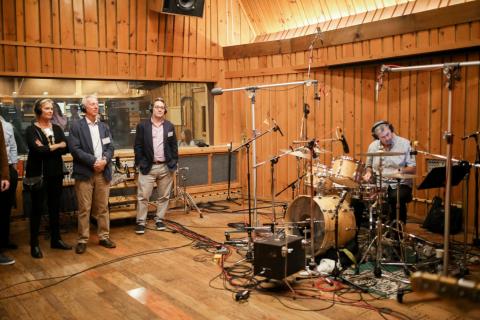 To celebrate the announcement of Power Station at BerkleeNYC, Berklee and New York's Mayor's Office of Media and Entertainment (MOME) hosted a launch party at the Manhattan studio. At the event, Berklee presented an American Master Award to Grammy Award–winning musician and producer Rick DePofi B.M. '82, recognizing and honoring him for his lifetime of work in the industry, and for his initial vision for BerkleeNYC. It was DePofi who approached Pete Muller, Berklee trustee and founder and CEO of PDT Partners, with the idea of buying Avatar Studios and collaborating with the institution to establish a New York presence.
Making a 'Crazy Idea' a Reality
In his introduction to the American Master Award, Berklee President Roger H. Brown hailed the multi-instrumentalist engineer and producer as the quintessential alumnus for the mark he's left on the industry, and quoted longtime friend and collaborator Rosanne Cash, who called DePofi, "a gentle, intuitive, trustworthy authority in the studio."
"Rick, you've done so much for the Berklee community," Brown added. "If you hadn't recorded here and tossed around your 'crazy idea' with Pete Muller, we might not be celebrating BerkleeNYC today. We can't thank you enough for your tremendous help and efforts to make Berklee one of the greatest institutions for music in the world."
In his acceptance remarks, DePofi thanked Berklee and many of his musical partners over the years, including late jazz saxophonist and faculty member John LaPorta, saxophonist Jack Bashkow, and guitarist/producer John Leventhal. The latter he credited with teaching him about "doing the right thing and helping the right people. That was very fulfilling to me." He also gave special thanks to Muller, "because that guy made this happen."
Watch a video of Muller and DePofi discussing the origin of the project:
A Studio for the Future
The event also gave attendees a chance to see the studios in action with recording sessions by Broadway actress Luba Mason (Chicago, Jekyll & Hyde) and the Pete Muller Band, and hear remarks by Stephen Webber, executive director of BerkleeNYC; Julie Menin, media and entertainment commissioner for the Mayor's Office of Media and Entertainment; Matthew Kwatinetz, executive vice president, Asset Management Revenue, Economic Development Corporation (EDC); and Muller.
With the support of MOME and EDC, and Muller's vision, Berklee will renovate the world-renowned studio and transform it into a state-of-the-art recording and video production facility for the city's music, theater, television, and film industries. BerkleeNYC, with funds from MOME and the EDC, will host both free and tuition-based educational programs, performances, and resources for local musicians and will also feature a virtual reality/augmented reality studio.
"Let's forge new connections among art forms, musical traditions, technologies and institutions," said Webber. "Let's not only honor and preserve this sacred ground, but propel it into the future by reimagining what it can be and who it can serve. Let's throw open the doors, not just to famous artists, but to working musicians, college students, public school students, and those seeking to make the world a better place through their art."
About Rick DePofi
Rick DePofi is a Berklee alumnus and multi-instrumentalist who has worked as producer, composer, arranger, musician, and/or engineer with artists including Paul McCartney, Rosanne Cash, Shawn Colvin, Michelle Branch, Kelly Clarkson, Elvis Costello, Vieux Farka Toure,  Janet Jackson, Diana Ross, and others. He also was coleader of New York band Mojo Mancini.
DePofi's scoring for film, television, and documentaries includes composing and arranging music for The Prince & Me, Silver City, Grey's Anatomy, and Tony Cragg: In Celebration of Sculpture, and his music has appeared in commercials for American Express, Xerox, Duracell, Kodak, Cotton, and Dr. Pepper.
The American Master Award is presented by Berklee to industry leaders whose openness, generosity, and deep commitment to music education have made a positive impact on the lives of young musicians, providing them opportunities to grow as artists and leaders. Past recipients of the award include Gillian Welch '92, T Bone Burnett, David Rawlings '92, and Pete Fisher.