Berklee Presents American Master Award to Power Station Founder Tony Bongiovi
October 23, 2017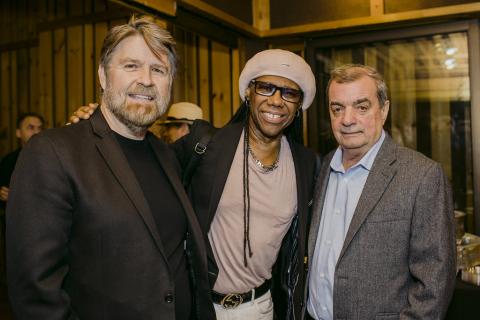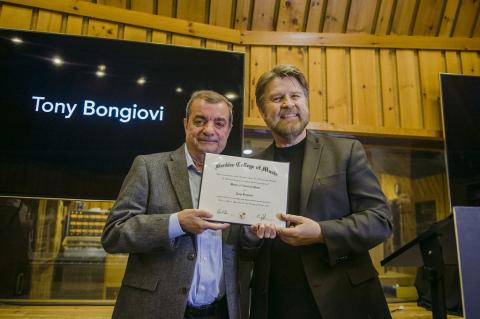 Friends from the recording industry and music business gathered on October 19 at newly rechristened Power Station at BerkleeNYC, where Berklee presented its American Master Award to Tony Bongiovi, founder of the original Power Station recording studio. He was recognized for his lifetime of work in the industry as a record producer and studio engineer, and for his groundbreaking studio design. Grammy-winning musician Nile Rodgers, comedian Jackie "The Joke Man" Martling, and bassist Will Lee spoke in Bongiovi's honor.  
In his introduction to the American Master Award, BerkleeNYC executive director Stephen Webber praised Bongiovi for shaping the sound of American popular music with his production and engineering skills. "Tony is a legend who has established himself as a trusted professional and a true friend over his 40 years in the music industry," said Webber. "Tony, you've done so much for people everywhere who love music. Your creation, the Power Station, has now led to BerkleeNYC, and a new future for this beautiful space."
In his acceptance, Bongiovi thanked Berklee for the honor and acknowledged "all the magnificent artists, producers, and record company executives who recognized my talents and believed in me throughout my career." Bongiovi also revealed that he is giving Berklee all the drawings and blueprints that were used to design and build the Power Station, adding "I look forward to a long association with Power Station at BerkleeNYC."
Said Rodgers, who recorded with his group Chic and produced many notable artists at the studio, "It's so appropriate that Berklee is turning the Power Station into an institution of learning because that was what the Power Station was to us. This was not only our home where people loved us, but where we learned. The relationships that I forged here have been my collaborators my entire life. I'm so happy this place is going to continue. All of us gathered here tonight represent the beginning and the future of the Power Station."
Berklee recently announced an exciting new chapter in the history of the college and the studio. With the support of New York's Mayor's Office of Media and Entertainment (MOME) and the city's Economic Development Corporation (EDC), and the vision of Berklee Trustee Pete Muller, Berklee will renovate the studio and transform it into BerkleeNYC, a state-of-the-art recording and video production facility for the city's music, theater, television, and film industries. BerkleeNYC will host free and tuition-based educational programs, performances, and resources for local musicians, and also will feature a virtual reality/augmented reality studio.
Berklee plans to continue operating the studio commercially as Power Station at BerkleeNYC. Bongiovi's original design of the studio will remain intact. It is widely thought that if Berklee had not stepped in, the building would have succumbed to real estate pressures and become condominiums, a fate that overtook the Hit Factory (just one block away) and many other large-format studios in Manhattan.
About Tony Bongiovi
Tony Bongiovi began his career in the late 1960s at age 17 as an engineer and producer at the legendary Motown studios in Detroit. He became sought-after in New York and worked with artists such as Jimi Hendrix, Gloria Gaynor, the Ramones, and Talking Heads. In 1975, he purchased an old Con Ed station from the City of New York and designed and built the award-winning Power Station studio using his record royalties, check by check, to finance construction. Opened in 1977, Power Station quickly became a huge success because of Bongiovi's now legendary acoustical design, providing rooms designed specifically for multitrack recording boasting a "live" sound. Today, it is a world-renowned facility where iconic albums by artists including Bruce Springsteen, Madonna, the Rolling Stones, Chic, Barbra Streisand, Diana Ross, Sting, Duran Duran, Cyndi Lauper, and many others were recorded.
As a producer, Bongiovi built a solid gold reputation because of his contribution to more than 40 gold and platinum records for artists such as Aerosmith, Bon Jovi, Aldo Nova, the Scorpions, and Ozzy Osbourne. He also designed studio spaces for Record Plant, MediaSound, Masterdisk, and Turner Broadcasting. In 1993, he was brought in as a special consultant by CBS to improve the sound quality and acoustical environment for The Late Show with David Letterman.
Bongiovi also is a pilot who owns and flies a Piper Twin Comanche. His sound engineering and design expertise, coupled with his interest in aviation, led him to develop a technique that significantly lowered the noise level of his own airplane. Subsequently, he worked with Custom Aircraft Interiors and helped create a package that greatly reduced the interior noise level in corporate helicopters. Results of Bongiovi's study of the Voyager aircraft were used by the Bose Corporation to develop a headset used to protect the hearing of pilots Jeana Yeager and Dick Rutan on their historic around-the-world flight. Bongiovi is cofounder and managing director of Bongiovi Acoustics.
The American Master Award is presented by Berklee to industry leaders whose openness, generosity, and deep commitment to music education have made a positive impact on the lives of young musicians, providing them opportunities to grow as artists and leaders. Past recipients of the award include Gillian Welch, T Bone Burnett, David Rawlings, and Rick DePofi.