The live experience design specialization explores the design, management, and execution of live and virtual productions.
In just one year, artists in Berklee NYC's live experience design Master of Arts program emerge with the skills, portfolio, and network to make emotional connections with worldwide audiences through innovative technology.
The core curriculum of this program provides students with foundational knowledge for their careers that address both the business and creative sides of the performing arts.
Program Details
Full Description
The live experience design specialization explores a forward-thinking approach to the design, management, and execution of live productions spanning music and the arts to corporate and sporting events. Students receive training in performance technologies including sound design, lighting design, projection mapping, LED panel technology, stage design and management, computer-aided design, and video production, all supported by experiential opportunities.
Students in the live experience design specialization gain expertise in the most in-demand, up-to-date design techniques in the live events industries, from multichannel sound installations, live electronic performance, and playback engineering to digital video, lighting, and projection-mapping systems.
What Will I Learn?
Upon completion of the live experience design specialization, students will:
develop production, staging, and collaborative techniques applicable to all varieties of live events;
demonstrate technical expertise with industry-standard software and hardware such as Resolume Arena, Adobe After Effects, and many others;
integrate diverse views and experiences into their artistic creations;
generate artistic content at a high level of technical proficiency and at an objectively professional standard; and
lead with a spirit of creative entrepreneurship to sustain a career in the arts that is adaptable, is ethically sound, and creates change.
Entrance Requirements
Applicants to the Master of Arts in Creative Media and Technology program must possess a minimum of a bachelor's degree from an accredited institution. Learn more about how to apply.
Curriculum and Courses
The Master of Arts in Creative Media and Technology program is designed to be completed in one full academic year: consecutive fall, spring, and summer semesters.
Students take a total of 30 credits (15 credits of core courses and 15 credits of specialization courses) with an additional one-credit internship upon completion of the program (required only of students who opt in to the graduate internship program). 
---
First Semester (Fall)
Core Courses (6 credits)
Specialization Courses (6 credits)
Electives (2–3 credits; optional)
---
Second Semester (Spring)
Core Course (3 credits)
Specialization Courses (9 credits)
Electives (2–3 credits; optional)
---
Third Semester (Summer)
Culminating Experience (6 credits)
---
Fourth Semester (required of students who opt in to the graduate internship program)
What is it?
Live Experience Design: Concert, Theater, and Event Production
As technology blurs the lines between music, theater, and interactive media, program director Loudon Stearns explains how this unique program gives students the skills to thrive in an experience-driven world.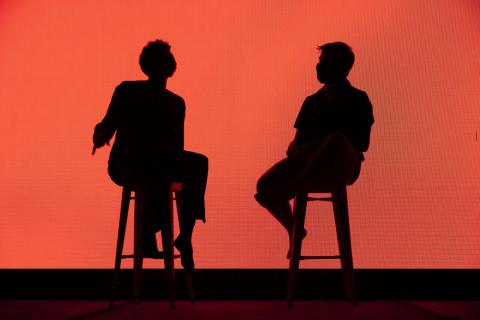 Our Philosophy
Next-Level Skills
Students cultivate an entrepreneurial mindset and master a wide range of skills and technologies, including content creation, sound design, live music production, digital lighting, video systems, networking, programming, and 3D design. 
Live experience design students are immersed in the production of a wide variety of events to master the technical and human aspects of theater, concert, and event production.
By creating compelling art as a member of a diverse and talented team with access to transformative technology, students discover their perfect place in the live event industry.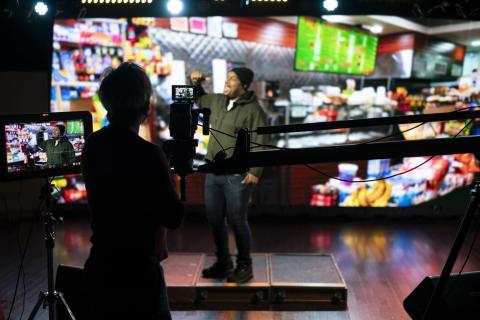 Who are we?
Human Connections
Students in the live experience design program work alongside faculty who are designing the latest Broadway shows, constructing current large-scale product activations, and creating content and lighting design for major musical acts and festivals. 
The Berklee NYC faculty and students are embedded in the fabric of New York City, a cultural capital of the world and a hotbed of artistic innovation. Being here puts you on the cutting edge of worldwide trends.
"The concept of 'team led' is necessarily diverse: we are musicians, photographers, dancers, animators, stage managers, songwriters, lighting designers, projection designers, directors, and programmers. We come from a wide range of backgrounds. We recognize that strength and innovation come naturally from diversity of culture, skill, and experience. We bring out the best in each other and learn together by experiencing and creating experiences that connect to our own personal stories."

—Loudon Stearns, Program Director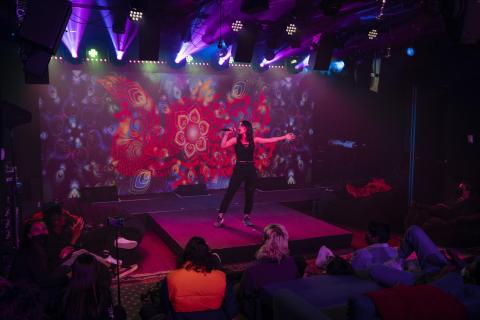 Experiential and Collaborative Workflow
Awe-Inspiring Experiences
Live artists recognize the need to craft the synchronized, awe-inspiring, multisensory experiences that audiences are clamoring for. As a one-year graduate program with a faculty of working professionals, Berklee NYC's curriculum can constantly adapt and keep ahead of trends in entertainment.
​​Live experience design students gain a deep understanding of the technical systems supporting immersive live events without being bogged down with "this is how we've always done it before" thinking and history classes. This program is laser-focused on what's relevant, including weekly concerts and livestreams that integrate lighting, video, sound, and cameras in exactly the same way as professional, large-scale events. 
A Berklee NYC live experience design master's degree tells future collaborators, "I know how shows are run, I know how to inspire audiences, I know how to support all crew members, and I have mastered my craft."
Who We Are Looking for
We seek a varied group of motivated, creative, and focused candidates with solid academic and professional backgrounds who can contribute a diversity of experience, insight, and skills.
Performers who want to make their act awesome: Performers know that connecting with audiences requires perfectly designed lights, sound, music, and screens, and that their act must be recorded and streamed to worldwide audiences. This year provides them with the skills and connections to level up their act and develop their artistic persona.
Artists who want make their art live: Artists see a booming industry of theaters, festivals, and cutting-edge live events in need of animation, art, music, sound, direction, and programming. This year provides them with the skills and connections to move their already-deep skills into a growing and vibrant industry.
Live event technicians who want to reinvent their career: Live event technology and practices are changing rapidly, and no one knows this better than the sound, lighting, video, and broadcast technicians who have been working at events. For working technicians, this program provides a curriculum that will expand their creativity and help them master the latest event technologies. 
Culminating Experience

Students will ideate, develop, and complete a culminating experience or thesis project that is uniquely theirs.

Graduate Internship

You have the option of spending a fourth semester completing an internship course.

Paying for Your Degree

All applicants are eligible for aid and merit-based scholarships. You can also earn money working as a graduate assistant.