Berklee NYC's Master of Arts in Creative Media and Technology program offers a forward-looking curriculum designed to teach students the tools and strategies needed to thrive in artistic fields that have seen significant disruption, and will continue to change and evolve at a rapid pace.
The core curriculum of this program provides students with foundational knowledge for their careers, addressing both the business and creative sides of the performing arts.
The writing and design for musical theater specialization equips students with experience in the collaborative art of musical theater.
Program Details
Full Description
The writing and design for musical theater specialization will equip students with theory and experience in the collaborative art of musical theater. Using traditional and contemporary methods, students will conduct intensive study of storytelling. Through the use of time and place, look and feel, and sound and milieu, students will acquire skills in character development, songwriting, cast-recording production, book writing, and theatrical visual environment conception.
Students will learn current industry-standard practices while continuing to explore their own artistic identity in a challenging and experiential environment. Working with the latest and best technologies on site, students will gain real-world insight from active professionals in the field while working towards creating and executing artistic works. Gaining first-hand experience in demo recording in the same studios where many Broadway cast albums are made, students will acquire a set of strategies to create and promote new work in the theater world of Broadway and beyond.
What Will I Learn?
Upon completion of the writing and production for musical theater specialization, students will:
develop production, staging, and collaborative techniques applicable to musical theater and beyond;
demonstrate mastery of composition and writing techniques;
develop technical expertise across necessary software and hardware, as applied to current creative workflows;
devise new approaches to the look and feel of their productions;
integrate diverse views and experiences into their artistic creations;
generate artistic content at a high level of technical proficiency and at an objectively professional standard; and
lead with a spirit of creative entrepreneurship to sustain a career in the arts that is adaptable, is ethically sound, and creates change.
Entrance Requirements
Applicants to the Master of Arts in Creative Media and Technology program must possess a minimum of a bachelor's degree from an accredited institution. Learn more about how to apply.
Curriculum and Courses
The Master of Arts in Creative Media and Technology program is designed to be completed in one full academic year: consecutive fall, spring, and summer semesters.
Students take a total of 31 credits (14 credits of core courses and 17 credits of specialization courses) with an additional one-credit internship upon completion of the program (required only of students who opt in to the graduate internship program). 
---
First Semester (Fall)
Core Course (3 credits)
Specialization Courses (8 credits)
Electives (1–3 credits, optional)
---
Second Semester (Spring)
Core Courses (5 credits)
Specialization Courses (9 credits)
Electives (1–3 credits, optional; see full list above)
---
Third Semester (Summer)
Culminating Experience (6 credits)
---
Fourth Semester (required of students who opt in to the graduate internship program)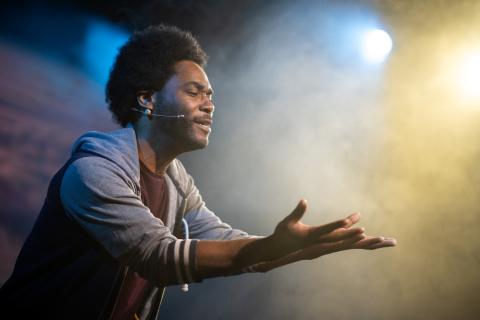 Our Approach
Future-Facing
Musical theater writers today have more exciting choices than ever before about the spaces in which they can present their work and the aesthetic of the worlds they create. This specialization connects creativity, musicianship, and the fearless application of technology to writing and design for musical theater, offering a long-overdue departure from more traditional pedagogies.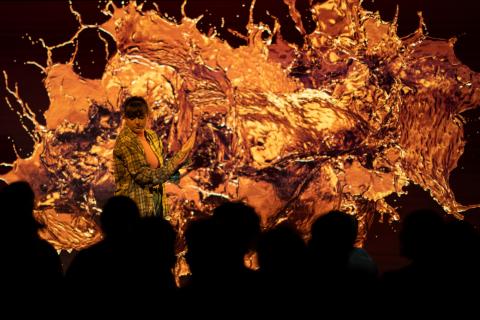 Our Curriculum
Creativity- and Innovation-Focused Design
The writing and design for musical theater curriculum provides students with a comprehensive tool kit to help strengthen their vision throughout the entire creative process. Whether writing a musical with a traditional musical structure or exploring experimental concepts in non-traditional spaces, students are urged to re-imagine the theatrical experience for a changing audience.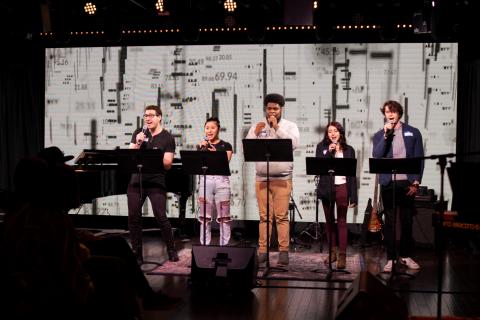 APPLYING WHAT YOU LEARN
Experiential and Collaborative Learning
Writers and creators develop ideas through collaboration while workshopping and showcasing their art in progress. These collaborative efforts are at the center of this specialization and includes experiential learning through lab and critique settings, musical arranging and recording sessions, and design technology in the staging of original works with peers, faculty, and visiting professional artists. Record your music in the studios where Broadway cast albums are made, and learn how to take a show from an idea to the stage.
Who We Are Looking For
We seek a varied group of motivated, creative, and focused artists who are passionate about storytelling with words and music while contributing to a cohort diverse in its experience, insight, and skills.
Ideal candidates will want to:
Develop their creative and artistic voice through the power of words and music

Integrate collaborative skills to further the art form

Affect change and lead the craft into the future with diverse and bold creative voices

Gain an understanding of current practices in the industry with an eye on continuing to improve the paths of development for new work
Ideal candidates should demonstrate:
Current creative activity, although they do not have to show prior experience in the musical theater art form

An interest in the musical theater industry and current trends

Motivation towards advancing their career and promoting their own work

Focus on their artistic voice in relationship to the expression of the art form
Culminating Experience

Students will ideate, develop, and complete a culminating experience or thesis project that is uniquely theirs.

Graduate Internship

You have the option of spending a fourth semester completing an internship course.

Paying for your Degree

All applicants are eligible for aid and merit-based scholarships. You can also earn money working as a graduate assistant.